Once in a while, something really special comes to town.  My latest find is a new kitchen and bath studio called "The Works".   It is a full service resource for design professionals and homeowners.   But, this is a showroom unlike any other . . .  it allows you to experience new and innovative ideas that can be incorporated into your home that will make it a WOW!!!
Bette Raburn is the designer who put this concept together.  She has gathered a team of artists, products and craftsmen that value the opportunity to offer options that are well beyond ordinary.  I was honored to be invited to contribute to this outstanding showroom.
,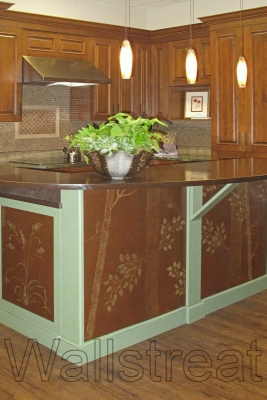 The design process:
Our challenge in this space was to add interest to a standard and predictable kitchen island . . .  something that would compliment the beautiful glass tile in the back splash, blend with the richness of the wood cabinetry and reinforce the image of  quality.  Bette is always looking for innovative solutions.  Together we came up with this idea . . . when you have something that is already good, just make it even better!  So, with some creative brainstorming, this was the result.
The addition of these panels gives the illusion of a stunning 3 dimensional pounded copper sculpture.  After determining the exact colors to blend, I created them in my studio.  Working with the carpenters, they were cut for an exact fit and installed during the final construction of the island.
One of the advantages of this process is versatility.  In the future, these panels can be easily removed and/or replaced.  As a result, if your colors change or your personal style takes a turn in a different direction, new panels can be designed and made to your exact specifications.   One client said to me, "When you decide to change, I want to have those framed.  They will become great pieces of art on my walls."  Keep in mind,  we can easily do that, too!
Be sure to stop by The Works to see this and many more creative options in person.  You must see it, feel it and touch it to believe it.   It is filled with inspiration for anything you need for your home.  Hence the name, "The Works"!
Located in Roswell, GA at Hwy 9 and Mansell Rd.   10800 Alpharetta Hwy., Suite 240, Roswell, GA 30076. (770) 649-9993.  theinteriormotive.com
Please leave your comments below.  Be sure to visit www.new.kasswilson.com for more ideas from Wallstreat Studio.