The purchase of a new television set was the catalyst for change in this keeping room.  It became apparent that this cabinet would need to be adapted to accommodate  the new electronics.  Once that was done,  a lot of repairs would be necessary.  The initial request was to return it to the original cabinet finish.  Based upon all of the changes that were going to be made, this cabinet was destined to be completely repainted.  With some imagination and creativity, we decided to go in a whole new direction.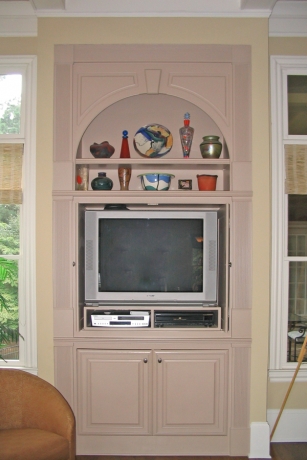 The design process:
This cabinet is the largest architectural detail in the room.  Yet, it didn't stand out as a focal point.  Contrast was the answer.  A faux finish using a wood grain technique (faux bois) was the obvious choice.  Tones were chosen to blend with the hardwood floors and bar stools in the adjoining kitchen.  The painted  illusion of wood was extended out to the drywall on the sides.  Since the new TV was so large, the additional width made it appear more in proportion with the cabinet.
The deep colors of the faux wood grain  flow effortlessly where it meets the flooring.  Then it carries your eye all the way to the tall ceiling to emphasize the height.  This painted cabinet has become the feature attraction of the space.  The addition of the rich faux finish of wood offers warmth and an unmistakable  perception of quality to this home.
For more detailed information about this project, watch our new video on YouTube.
To see endless creative ideas for interior design and decorating, visit our website at www.new.kasswilson.com