When you are not able to achieve the desired overall feeling in a space, take a closer look at each individual element.  You will see what isn't working.  If it is a piece of furniture, the answers are . . . replace, re-cover, re-purpose or re-finish them.  In this case, the wall of stark white architectural elements dominated the room.  While the options for a piece of furniture are clear, we shouldn't forget that there are SIMILAR options for cabinetry and architectural details.  The easiest involves faux finishes.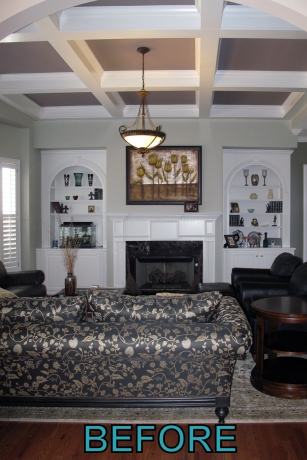 ,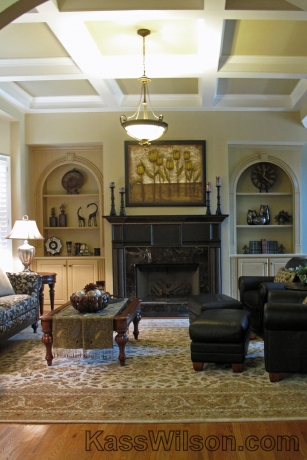 Clients often view these white architectural details as being permanent and therefore, void of options.  Being the largest pieces in a space, they carry a strong influence on the design of a room.  They effect the feeling that you get when you enter the space and the perceived value of the home.
The Design Process:
Interior Designer, Michelle Nettles, of MJN and Associates Interiors is very familiar with this design challenge.  Working with what this client already had, she was able to make the necessary changes.  The area rug and artwork were the inspiration for a warmer color scheme.  Bookcases were softened with a faux finish allowing them to blend with the walls.  On the mantel, an ebonized faux finish with bronze highlights compliments the artwork and expands it into the prominent focal point of the room. Finally,  Michelle re-arranged furnishings and accessories to open up the space offering a warm and inviting feeling to the room.
As you look at your home and want to make some changes, DO NOT FORGET . . . there are options for the plain white architectural details in any space.  These options will make your home stand out from the crowd.
View more before and after transformations at www.KassWilson.com .