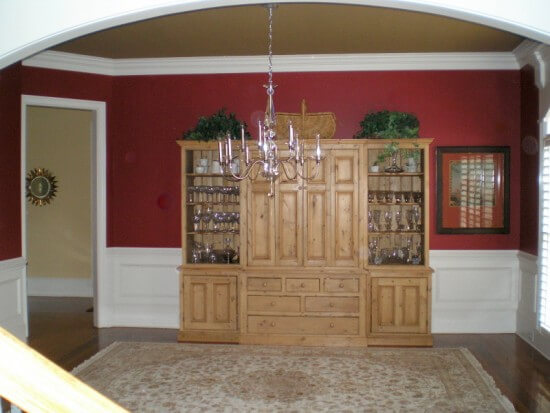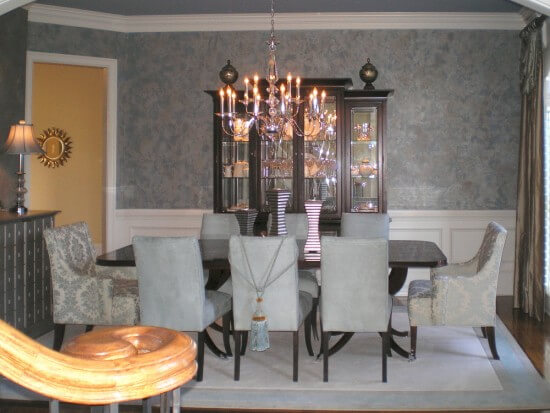 First impressions of a home are established the minute you enter the front door. This is where the stage is set as a preview for what is to come. In essence, it is the opening act.
In this home, the dining room is directly off of the foyer. The objective was to create an ambiance of tailored elegance. A sophisticated color palate was chosen to offset the sleek furnishings. The wall finish acts as a chic backdrop to soften the appearance of the straight contemporary lines. In this case, the reflective qualities are consistent with the high sheen of the fabrics and the shiny surfaces.  This captivating room grabs your attention and invites you to enjoy the show.
The Design Process:
The request from this homeowner was to take this room out of the 1990's. She wanted soft, sleek, elegant and plenty of "bling." The first decision was to define an updated color palate. From there, a selection of rich fabrics, clean lined furnishings and glimmering accessories were chosen. This is the point where the perfect wall finish was developed. It needed to be subtle yet incorporate reflective qualities that would complement but not compete with the other elements in the space. Undertones of blue are present but given interest with a texture that reads of icy and dimensional shimmer. It works as a perfect backdrop to give this room the impression of a sophisticated crystal palace.
To learn more about our faux finish services in Atlanta, contact WallsTreat Studio.