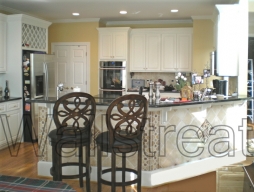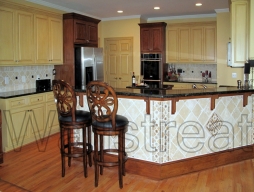 He wants the richness of wood.  She wants an updated color.  How do you keep everyone happy?  Creating a kitchen that accommodates both personalities requires creative planning.  One solution is to look at how you can incorporate more than one finish in a single space.  During our first meeting, we looked through a large portfolio of cabinet finishes.  Two options were identified as possibilities.  A soft stria glazing in a complementary tone of gold offers a casual yet tailored elegance.  The beauty of wood grain is rich in tradition, but the concern was that it would appear too dark if applied to every surface.  Careful studying of the lines within the cabinetry revealed the answers.  The division became obvious.  Both finishes could be used and a unique kitchen was born!
The Design Process:
In a kitchen, the cabinetry usually covers more than 60% of the wall space.  It can be very repetitious.   We often create drama in a room by adding an accent wall of color.  This same concept can be used on your cabinets.  Utilizing two complementary finishes will add character and give your kitchen a personality all its own.
Look closely at the original kitchen.  The cabinets are perfectly uniform and symmetrical.  They were painted the same color as the walls and lightly glazed.  This offers a quiet sophistication to surround the new focal points. . . the two large towers.  A wood grain technique was applied to give them the illusion of freestanding furniture.  Designing with an odd number of elements is more pleasing to the eye.  So, the island was number three.  The pantry doors were then treated the same as the surrounding cabinets.  This allows your eye to gently float around the room without interruption.
The custom tile on the backsplashes and the front of the counter introduces a dramatic pattern into this space.  Painting the trim around the bar in the same wood grain technique provides an outline of this feature.  It is a finishing detail that helps to emphasize the importance of this design.
This kitchen now offers versatility.  It provides an invitation for warm family gatherings.  But with a few fancy accessories, it is easily dressed up for formal entertaining.  It readily adapts as a pleasing environment that will fit any personality.
To view more cabinetry transformations, visit my website at www.new.kasswilson.com.