So often we think of neutral colors as being a "safe" option. But, plain vanilla is not always the best or most interesting choice. That is why there are 57 flavors! The process of decorating your home creates a story about you . . . your personal style, the things you love and expressions of your personality. It is the job of a design professional to listen carefully and explore your goals.  Then they use their creativity and resources to help you define a space that is a reflection of you.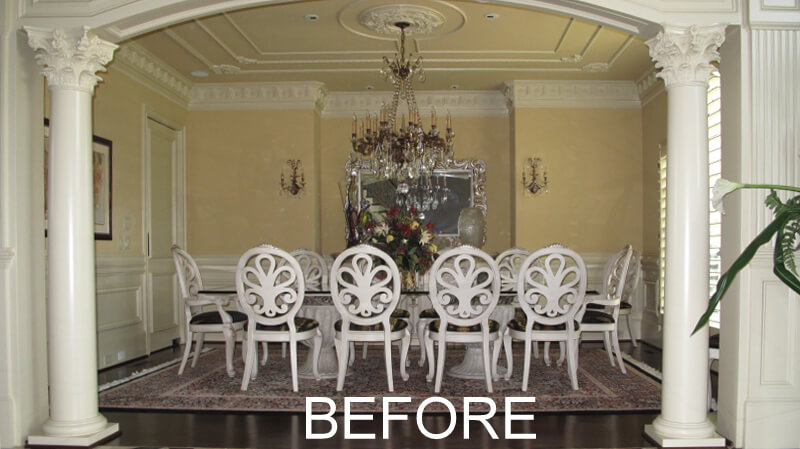 Upon meeting this client, it was apparent that they were comfortable with a traditional style.  Yet, presentations of original art pieces throughout their home are a reminder of their appreciation for things that are unique and unexpected.  Their love for the color red gave us the direction needed to make this dining room tell their story.
The Design Process:
Interior designer Michelle Nettles of MJN and Associates Interiors began with a selection of glamorous reflective fabrics that would become a custom window treatment. This was our inspiration for developing an innovative faux finish for the walls. "Whatever you do with the walls is the final detail that is needed to complete the total look of a project," says Michelle. "I appreciate the creativity that faux finishes offer. It is like selecting and designing the perfect gift wrap for a special present."
These were our objectives as we identified and developed the perfect painted wall finish to complete the design of this space:
Create a contrasting backdrop that would allow the neutral furnishings to stand out.
Remain consistent with a theme of traditional elegance.
Incorporate a special artistic touch to make this space unique.
Due to the size of this space, an all-over pattern (like wallpaper) would have been too overpowering and predictable. Instead, we incorporated a traditional damask design that magically fades in and out at specific places on the wall. This is a subtle way to draw your eye toward the beautiful features that embellish this room . . . the window treatments, the crystal sconces and the custom art. This soft reflective painted wall finish in multiple tones of red and bronze is now the perfect compliment to the glamorous style of this home.
This project was filmed by CBS for Better Atlanta.  Take the full tour and meet the team.
The next time you are planning on making changes to a space,  go beyond the ordinary. Be willing to explore options that are not expected.  These are the details that will make your home uniquely yours.
What is the story that your home tells about you?  Please share your comments about this project below.
Head over to my faux finish projects for more inspiring ideas.