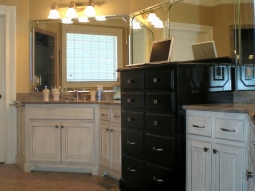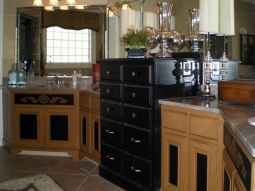 Multiiple "design tricks" were incorporated to transform this master bath into a place of elegance and intrigue.  The harsh contrast of the black chest next to white cabinetry had not been resolved by simple glazing.
Many times when we look at cabinetry, there is a tendency to apply a finish as if it is one single architectural detail.  In reality, it is a combination of many different surfaces and features.  Each of these is an opportunity to incorporate design elements that will make the craftsmanship stand out.  In this case, we identified the insets of specific doors and the front of the drawers as separate entities.
The Design Process:
Your first impression is that there is a strong line of cabinetry.  The black chest in the middle seems out of place.  Individual door fronts were strategically selected to be painted black.  This helps to unify and "make sense" of the chest of drawers while softening the long horizontal line.  It is much easier for the eye to follow.
The new palate was selected from the tones of the granite countertops.  An embellished design was placed directly below each sink.  This was inspired by the designs in the rug and new window treatments.  It directs you to focus on the center of each side and enhances the symetry of the space.  Notice in the photos how your eye now gently "floats" across the room to take in the visual depth and interest.
The elegance of this master bath was a result of innovative and "strategic planning" with JoAnn and Kelly, the designers at Kandrac-Kole Interiors (www.kandrac-kole.com).
To view more innovative cabinetry projects visit my website at www.new.kasswilson.com.