A faux finish is created on cabinets that mimics driftwood.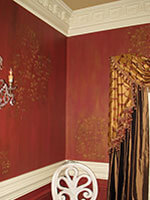 A creative faux finish on the walls of a dining room tells a story about your style.
Return To: Walls
Tagged: Atlanta, decorative artist, decorative painting, designer, Faux finish, faux painting, interior decorating, interior design, traditional, wall finish, Walls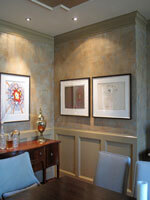 Elegant faux finishes are added to the walls and ceiling of a dining room to create the perfect backdrop for a custom art collection.