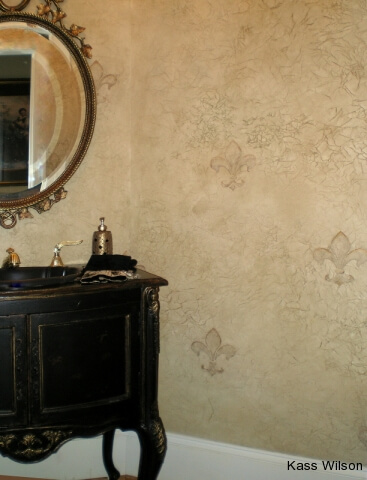 The elegance of French style graciously adorns this home. Meticulous care was given to every detail including a lovely powder room. This is a place where guests have an opportunity to study and appreciate the intricacies of every special touch.
The Design Process:
The goal was to create a faux finish for the walls that introduced warmth and dimension. Plasters can often give the impression of a cold and hard surface. Therefore, the intriguing texture and dimension of "leather leaf" was more fitting. The palate of the room flows with the color story of the home. Warm tones and gentle blending of soft greens are consistent with the window treatments and furnishings just outside of this room.
Remaining true to the French style, a raised fleur-de-lis pattern was incorporated. To keep it interesting, the fleurs-de-lis were placed in specific yet random locations. This way, they would work to compliment the artwork and other embellishments in the space. Each one was highlighted in bronze, allowing them to dance across the walls. This exquisite finish is a magnificent background that everyone wants to touch.