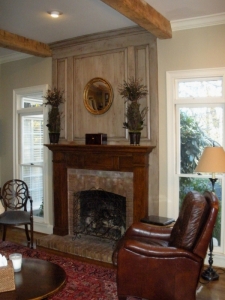 This room offers a unique blend of rustic style with traditional furnishings.  The original white mantel was inconsistent with the cozy ambiance of this space.  An element was needed to act as a bridge between the rough sawn beams and the antique bricks around the firebox.  The mantel wall was the obvious dilemma.
The design process:
Since this is a small space, utilizing just one faux finishing process would have still left this feature element appearing too large.  Dividing it into sections returned it to the appropriate scale.  It needed to be a careful blending of techniques that were consistent with the style of this home.
To compliment the rustic beams of the ceiling, an aged wood grain technique was applied to the mantel.  Contrasting the color of the  surrounding mill work acts to frame the mantel.  The palate was chosen to act as a unifying element of the different details within the space.  Contrasting the color works to define each feature.  The undertones of the crackle were selected to blend with the wood.  The top layer is similar in color to the painted cabinetry in the kitchen directly opposite of this wall.  The richness of the wood framed by dramatic antiqued/distressed mill work gives the best of both worlds.  These faux finish techniques are a reflection of intricate beauty that only happens over time.