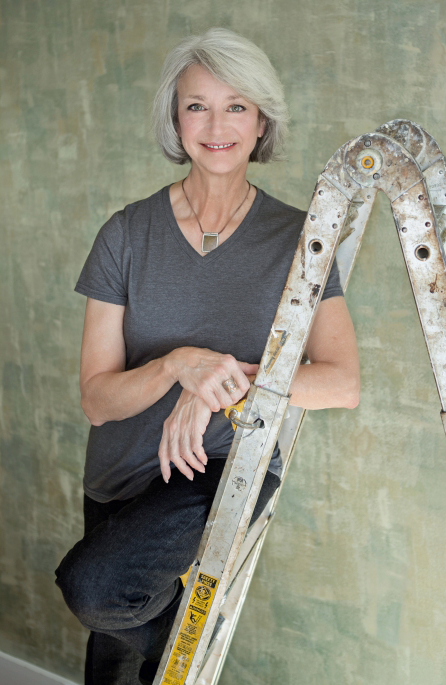 Kass Wilson is the owner and creative director of WallsTreat, an award-winning decorative artistry studio in Alpharetta, GA. Kass has had a lifelong fascination with the depth of color, dimension, and design. This is what motivates her ongoing journey as an artist in the world of advanced level decorative finishes. She has been involved with the design industry for over 20 years and appreciates the opportunity to have worked with some of the most talented designers, architects, and builders in the area.
Inspired by a love of nature and a flair for the unconventional, Kass combines multiple mediums and advanced techniques to create innovative effects on virtually any surface. She is passionate about her work and it shows. "I love it when my finishes offer both visual as well as tactile intrigue. Success for me is when you want to touch my art."
Her talents are a result of years of dedicated study. She has had the luxury of learning from some of the true masters of decorative artistry around the country. She continuously strives to develop her talents and gather more knowledge about how to integrate her artistry into outstanding projects. For over 15 years, she has practiced her craft making sure that each finish (no matter how simple or complex) is executed with care and attention to every detail. Strong insights for good color and design theory are her guide. She works closely with designers to offer solutions for some of their most challenging design dilemmas. The object is to make their visions become reality. Her goal is to be a resource to designers that have an appreciation for quality craftsmanship, a desire for unique options and a demand for professionalism. Each project magically transforms a space into something extraordinary.
Kass Wilson has received numerous awards from the national Fauxcademy of Decorative Arts. Her work has been featured in many publications, show homes, design studios and galleries. As a guest speaker, she offers instruction to professional finishers and inspiration to interior design students. Her book, "Creative Finishes" provides step by step instructions for the novice to achieve professional results with simple techniques.
This condensed portfolio presents a small sampling of decorative finishes and design inspirations. More examples can be viewed by visiting www.kasswilson.com. Be sure to subscribe to the newsletter, "Design Visions". It will open your imagination to the endless possibilities.
"Good design follows the trends . . . great design sets the trends."