The term "faux" is actually a French word meaning fake, false or imitation.  In the world of design, we always prefer to use elements that are real.  But very often limitations such as availability of products, time or expense  prevent REAL elements from being incorporated.  The solution is to explore options that IMITATE  items found in nature.  If it involves paint, you need to enlist the talents of a faux finish artist.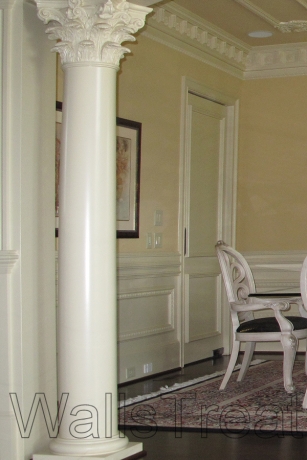 ,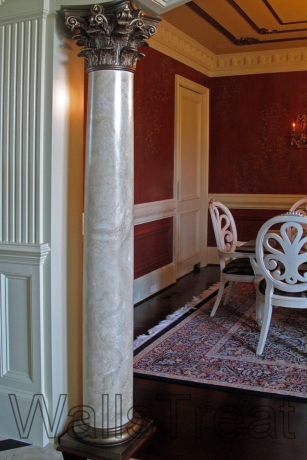 Done correctly,  faux painted elements become exquisite additions that add value to a home.  The artistry must create the illusion of a REAL element of nature. . . so real that you must feel it and touch it to believe it.

The Design Process:
Interior Designer, Michelle Nettles of MJN and Associates Interiors recognized that these columns were an integral  part of this design project.  The foyer of this grand home had magnificent custom marble floors.  Four stately columns outline the perimeter of the space.  Marble is ideal for spaces where a more formal, refined and glamorous look is desired.  The goal was  to paint the columns to create an upward extension of this natural element.
These columns appear as if they were produced from the same quarry as the marble floor.  Look closely at the colors and graceful movement of the patterns.    Over millions of years, rocks and granules were exposed to heat, pressure, liquid and chemical actions.  Years of compression transformed these elements into the elegant stone we know as marble.   The artistic process  begins with a visual image in my mind about the forces of nature that occurred to create this beauty.  The many layers of decorative artistry tell this story.  Fortunately, it only takes a couple of days to paint it!
It is always a privilege to be able to create elements that represent the beauty of nature.  That  includes wood, stone and  aged patinas on metals to name a few.  If your wish list includes adding an element that appears REAL, consider the option of PAINT!  Any surface can appear so authentic that you must see it, feel it and touch it to believe it.
This project was filmed by CBS for Better Atlanta.  Take the full tour and meet the team.  Then, let us know what you think.