What could be more joyful than the anticipation of a new member of the family? All of that love and excitement is mirrored in the thoughtful planning of the baby's nursery. These proud parents share an appreciation for the beauty of the Blue Ridge Mountains. The warmth and coziness of a nature inspired décor is what they wanted to bring into their new baby's nursery.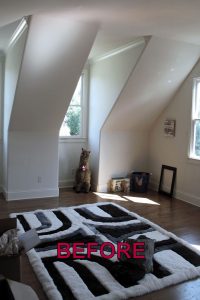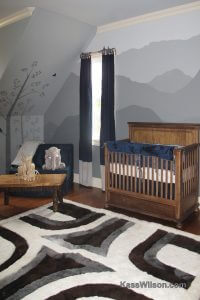 The Design Process:
In this space, the interesting architecture allowed us an opportunity to develop multiple focal points to complement an outdoor theme. Since the rest of the home incorporated tones of gray, the color scheme was continued into the nursery and punctuated with "little boy blues." The ombre' mountain mural placed dark colors on the lower portion of the walls, helping to ground the crib. The sloped walls prevented the addition of hanging art, so, they became a canvas for continuing the woodland theme.
A super-soft alpaca rug offers an inviting place for playtime. The addition of big fuzzy animal friends sets a playful tone while trees and natural accessories bring the outdoors in. Everyone is anxiously awaiting the arrival of the new bundle of joy.
Designed in collaboration with:
Mom, Dad, little brother and many loving Grandparents.